Breast Augmentation in Louisville KY
Dr. Lee Corbett is an exceptionally trained, highly experienced plastic surgeon who has helped numerous Louisville breast augmentation patients realize their dreams of feminine, attractive bustlines. He works tirelessly with all breast implants Louisville patients to learn about their aesthetic dreams and to create individualized treatment plans. This approach allows Dr. Corbett to consistently deliver breast augmentation results that meet or surpass the expectations of his patients. Please explore the paragraphs below to learn more about breast augmentation with Dr. Corbett.
---
Why Breast Augmentation?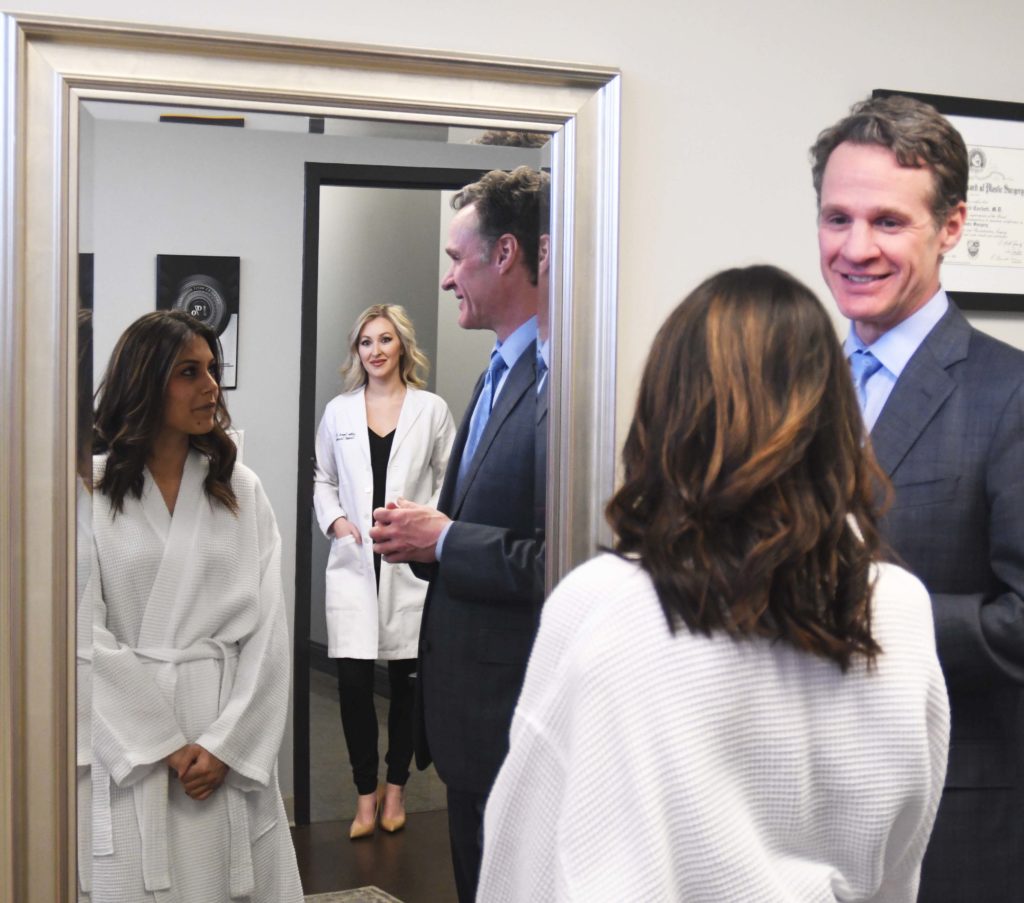 Breast Augmentation is one of the most common cosmetic surgeries performed today. Reasons women seek breast augmentation in Louisville include increasing one's breast size, restoring the upper breast volume lost after pregnancy, reducing unevenness between the breasts, and in some instances to lift drooping breasts. The "typical" patient having breast augmentation in 2013 was a 35 year old mother though we see patients ranging in age from 18 to their mid-50's interested in the procedure.
Dr. Corbett also performs revision breast augmentation for women who are dissatisfied with, or experiencing complications from, a previous breast augmentation procedure.
The goal of the breast augmentation surgery is to improve the size, shape, symmetry, and overall appearance of the breasts in accordance with the patient's expectations.
---
---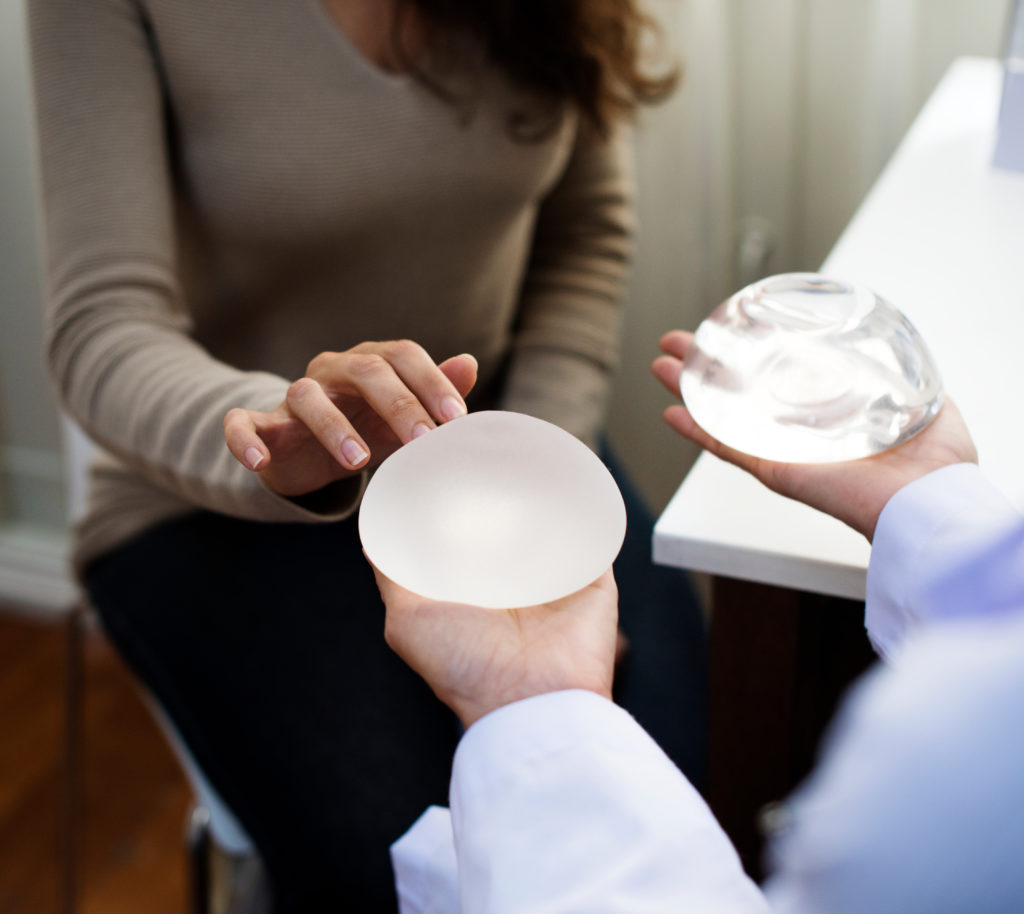 Types of Breast Implants
Two types of implants are now available, silicone filled and saline filled. Both implants have F.D.A. approval and a proven track record for safety. Currently, about 5% of our patients choose saline implants and 95% choose the gel filled implants. The choice of implant is based on many factors, including each Louisville breast implant patient's breast size, height, weight, skin quality, and of course, individual preference. No one implant is right for every patient. Dr. Corbett helps each patient make this decision at the time of pre-surgical consultations.
Dr. Corbett is trained and certified to use the Keller Funnel gel implants delivery device. The Keller Funnel offers a number of benefits during breast augmentation surgery by employing a no-touch technique (reduces the chances of contamination) and allowing for smaller surgical incisions. For more information, please ask Dr. Corbett about the Keller Funnel during your breast augmentation consultation.
Implant Placement and Incisions
The implants are placed under the muscle of the chest wall or behind the breast itself. Typically, saline implants go under the muscle and silicone gel implants can be placed either on top of or under the muscle. Most patients elect to place the implant under the muscle. But, either implant type can go in either position. This is something we will decide upon at your consultation. Incisions can be made in the crease under the breast or around the nipple edge. These decisions are made during the consultation taking into consideration the patient's wishes and the goals of the surgery.
---
Breast Augmentation Surgery
Frequently Asked Questions
Breast Augmentation is performed in an outpatient setting.
General Anesthesia is required.
Breast Augmentation Surgery usually takes  about 30 to 45 minutes.
Breast augmentation surgery is usually done on an outpatient basis.  Frequently we request that breast augmentation Louisville patients who live more than 1 1/2 hour away stay overnight in a local hotel.
After surgery you should plan on 3 follow-up visits. Typically we will see you at 10 to 12 days to remove your sutures. We will check you again at the six week point to check your progress. Your final check is at the 6 month point. If everything is ok at this point we will see you once a year or as needed.
As with any surgical procedure, complications can occur and are best discussed at the time of your consultation. It is essential that patients be aware of potential complications before undergoing this or any surgical procedure.
---
Recovery
Most patients return to their normal routine within a week to 10 days. Your recovery will be a little easier and shorter if we put the implant on top of the muscle. This obviously varies from person to person as everyone's speed of recovery varies. There are specific limitations which will be discussed at the time of your consultation and given to you as part of your post-operative instructions.
Cost of Breast Augmentation
Costs range from $6,500 to $8,000. All estimated pricing does include Hospital Costs, Anesthesia Fees, and Surgeon's Fees. While this cost range represents an estimate, the final price is based on each patient's unique situation and can only be determined during a consultation.
---
Contact Corbett Cosmetic Surgery
Dr. Lee Corbett treats all of his Louisville plastic surgery patients with the highest respect and dedication.
This approach helps reduce patients' anxiety and promotes better treatment results.
Besides breast augmentation, Dr. Corbett performs breast reduction and breast lift in Louisville.
To learn more about the breast procedures available at Corbett Cosmetic Surgery,
contact the practice today at 502-721-0330.