Revision Breast Augmentation Surgeon – Dr. Lee Corbett
Dr. Lee Corbett is a highly skilled breast surgeon with vast experience performing various types of breast surgery, including breast augmentation revision. He takes the time to thoroughly understand the needs of all of his Louisville revision breast augmentation patients, including their concerns about their current breast appearance and the results they would like to achieve. After a thorough medical evaluation and consultation, he will recommend the best option to help each revision breast augmentation Louisville patient achieve the chest appearance she desires.
Breast Augmentation Revision in Louisville: Is It for Me?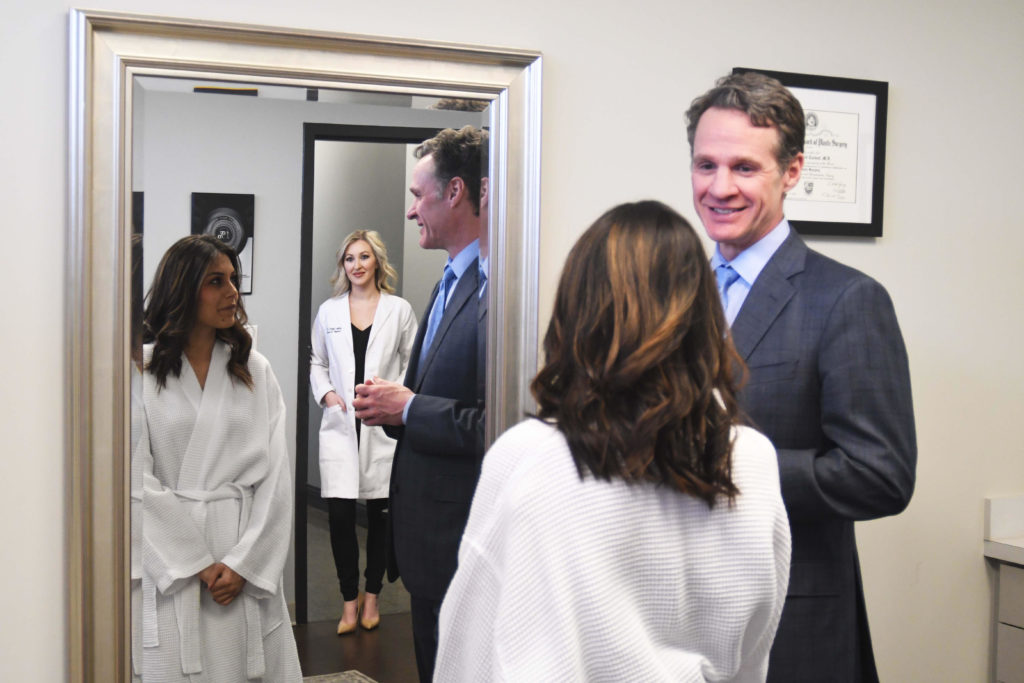 Revision breast augmentation, also called secondary breast augmentation, is performed for a variety of reasons. In many cases, women simply wish they had chosen a different implant size, shape or type (silicone vs. saline, textured vs. smooth). In other instances, implants must be adjusted, removed or replaced due to complications such as implant rupture, capsular contracture or double bubble. Some women simply change their minds and wish to have their implants removed completely, while others find that the passage of time and the natural aging process have altered the appearance of their breasts to the extent that a new surgery is needed to attain the look they prefer.
Goals of Surgery
The aim of breast revision surgery is to help women who have undergone a previous breast augmentation procedure achieve a breast appearance that is more consistent with their ideal look.
Where Does the Surgery Take Place?
Breast augmentation revision is performed in an outpatient facility.
Incisions
The placement of incisions will depend on many factors, including the type and size of breast implants involved.
Anesthesia
General anesthesia is used for revision breast augmentation.
Surgery Time
Like other factors, your time in surgery will depend on the specific nature of your procedure. Simple replacement of implants may be relatively quick, whereas more complex surgeries, such as reparation of capsular contracture, may take more time. In general, surgery time can range from 1 to 2 hours.
Hospital Stay
Dr. Corbett performs breast augmentation revision in Louisville as an outpatient procedure.
Recovery
Your recovery from secondary breast augmentation may be similar to your recovery from primary breast augmentation, or it may be somewhat longer. You should be able to return to your everyday activities within 7 to 10 days. Dr. Corbett will provide you with detailed aftercare instructions during your consultation, including when you can resume physical activities.
Follow-up
Please expect to make 3 or 4 follow-up visits to Louisville revision breast augmentation surgeon Dr. Corbett. The exact timing of these appointments will depend on the nature of your procedure and will be provided to you at the time of your consultation.
Complications
All surgeries confer a risk of complications, including revision breast augmentation. Dr. Corbett will provide you with a detailed explanation of all potential risks of surgery during your consultation.
Fees
The cost of breast augmentation revision varies from one patient to another depending on the complexity of the procedure and the type of implants the patient selects. The total cost includes Breast Implants (if any) Hospital Costs, Anesthesia Fees and Surgeon's Fees. Different implant types (saline or silicone) vary in cost, and more complex, time-consuming procedures will incur higher hospital and surgeon's fees.
Find out more about revision breast augmentation, including whether you are a candidate, by scheduling a consultation with Dr. Corbett. Call Corbett Cosmetic Surgery today at (502) 721-0330. If you prefer email, use the Contact Us form on this page or our discrete Virtual Consultation service.
Lee Corbett, MD, FACS, is a highly educated and experienced provider of cosmetic surgery Louisville patients rely on for a wide range of breast enhancement procedures. Besides primary and secondary breast augmentation, Dr. Corbett also offers breast lift and breast reduction in Louisville.