Your First Visit with Dr. Lee Corbett – Louisville Plastic Surgeon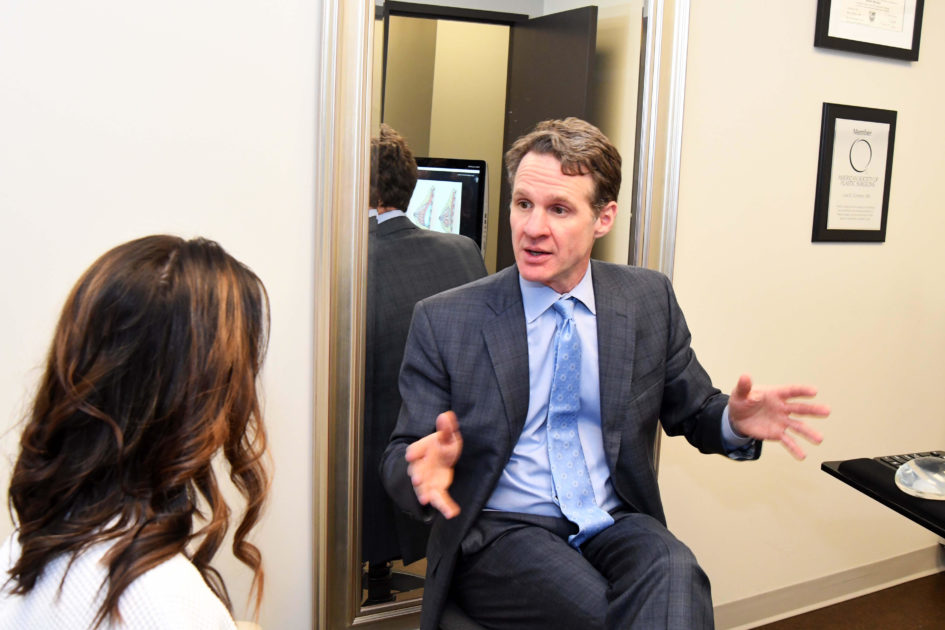 Dr. Lee Corbett, a highly skilled Louisville plastic surgeon, is dedicated to providing his patients with both stunning aesthetic results and compassionate patient care. A board-certified plastic surgeon with more than 19 years of experience, he is fully qualified to help you achieve the look you desire. In addition, he has assembled a top-notch team of trained medical professionals to assist you through every step of the cosmetic surgery process.
Regardless of the procedure(s) you choose, Dr. Corbett and his friendly, able team are ready to help make your dreams come true!
Scheduling a Consultation
The first step on your journey to aesthetic enhancement is to schedule a one-on-one consultation with Dr. Corbett. You can contact us by phone at (502) 721-0330, via the Contact Us form on this page or by using our Virtual Consultation service. Next, one of our friendly staff members will take your initial information and set up your appointment. You will be asked to print and fill out our Patient Registration Form and bring it with you to your first visit.
Your Consultation with Dr. Corbett
On the day of your consultation with Dr. Corbett, you will get a firsthand look at our comfortable, elegantly appointed offices and meet our compassionate, committed team of medical professionals. Next, Dr. Corbett will take the time to listen to your concerns about your appearance and your desired results. He will ask you many questions about your medical history, examine the body areas you wish to improve and provide you with his recommendations. Dr. Corbett will explain all the potential benefits and risks of the procedures you are considering and will make every effort to ensure you have realistic expectations for what the procedures can – and cannot – accomplish.
The consultation is your opportunity to make sure all your questions are answered. Consultations typically last 1 hour, but we will not rush you. A second consultation can be scheduled if all your questions are not answered or if you have additional questions in the days following your initial consultation.
Meeting with Your Cosmetic Surgery Coordinator
Following your meeting with Dr. Corbett, you will meet with Misty, our Cosmetic Surgery Coordinator and Office Manager. She will provide you with a cost estimate and discuss your payment options. If appropriate, she can assist you with patient financing. Misty will also provide you with a great deal of information regarding steps you must take prior to surgery, such as discontinuing certain medications and getting medical clearance for surgery. If you are a smoker, you will be asked to quit smoking for at least a few weeks before and after surgery.
Scheduling your Surgery
If you decide to go ahead with surgery, the next step is to schedule the procedure by calling  Misty. About two weeks prior to surgery, you will be asked to come in for a presurgery appointment, at which time Dr. Corbett and the staff will review the procedures you have chosen, provide you with aftercare instructions, complete your paperwork and confirm payment.
Get Started Now
If you are ready to start the process of achieving your desired body, face or breast appearance, please call us at (502) 721-0330 or contact us by using the form on this page to schedule your consultation appointment with Dr. Corbett. He and his team are eager to help you achieve your aesthetic goals by providing high-quality treatment and attentive care at the luxurious offices of Corbett Cosmetic Surgery.
Dr. Lee Corbett is a Louisville cosmetic surgeon who offers a range of plastic surgery procedures for the breasts, body and face. Louisville breast augmentation, breast lift and breast reduction patients frequently visit him for help in achieving more symmetrical, proportionate bustlines. In addition, tummy tuck, body lift and liposuction patients seek out Dr. Corbett for his fine-tuned body sculpting techniques. Patients looking for eyelid surgery, brow lift or revision rhinoplasty in Louisville are also among Dr. Corbett's most commonly treated patients.