Louisville Lip Augmentation Specialist – Corbett Cosmetic
Indications
Patients seeking lip enhancement have several options available. Today, injectable fillers are most commonly used. The most common reasons patients seek lip augmentation in Louisville are to plump the lips or to plump the wrinkles that from at the corners of the mouth.
Goals of Treatment
The goal of the procedure is to give a younger, fuller appearance to the lips. This is accomplished not only by adding volume to the lip, but by plumping and minimizing the wrinkles that form at the corners and around the lips.
Technique
After a local dental block has been placed, the upper and lower lip can be plumped with no discomfort. The corners of the mouth are often successfully treated as well in our more "mature" patients.
Recovery
Injectables available today, such as Restylane®, result in some mild redness but this can easily be covered with makeup. Otherwise, there is no recovery or downtime associated with lip augmentation in Louisville.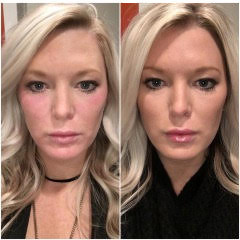 Results
Results are immediate. What you see in the office is what your result will be. This is a tremendous advantage as the patient can participate in the decision to add more or to decide what is enough. Both products last between 9 to 12 months.
Patient shown on the right is a 34 year old female treated with Restylane Refyne in her lips and cheeks to add volume. Restylane Defyne was used around her mouth to fill in where she had lost collagen.
Costs
Restylane® fees vary from $625 to $700 pending the Restylane product applied. See below for pricing details:
Restylane $625
Restylane Lyft $625
Restylane Refyne $650
Restylane Defyne $650
Restylane KYSSE $700
Restylane Silk: $650
Over the course of his career, Dr. Lee Corbett has helped many patients seeking cosmetic surgery in Louisville realize their aesthetic dreams. In addition to performing lip augmentation, he also specializes in facial revitalization with Botox® Cosmetic. In fact, Dr. Corbett is regarded as one of the most accomplished Louisville Botox® specialists. He also has considerable experience enhancing the appearance of the facial skin through the novel Palomar ICON.