Louisville Laser Skin Procedures Specialist – Corbett Cosmetic
Today in Cosmetic Surgery, Lasers are the one area where most new treatment advancements are occurring. The goal of today's technology is to produce the results patient's desire with as little recovery and lifestyle interruption as possible. The most notable advances in laser technology include non-ablative skin resurfacing and the ability to treat darker skin tones without the bleaching effects of the original lasers.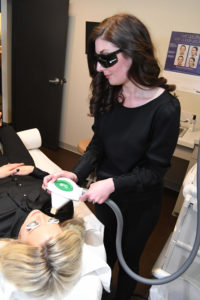 There are numerous potential uses for lasers which include:
Smoothing Fine and Course Facial Wrinkles
Improving Acne and Traumatic Scars
Facial Spider Veins Removal and Rosacea Treatment
Treating Facial Pigmentation and Melasma
Laser Facials and Collagen Tightening
Lightening or Removal of Birthmarks
Laser technology is truly amazing and provides numerous benefits to millions of patients each year. If you have an interest or a specific issue, please take advantage of a complimentary consultation at our plastic surgery Louisville offices and learn what lasers can do for you.