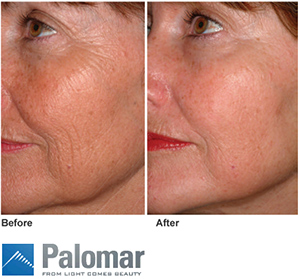 Intense pulsed light, or IPL, treatment involves directing pulses of light energy into the skin's deeper tissue layers to address a variety of skin concerns. Undergoing treatment with IPL in Louisville can improve the look of visible signs of sun damage including freckles, irregular pigmentation, fine lines, large pores, and rough or dull skin texture. IPL treatment can also improve the appearance of hyperpigmentation (dark spots), acne scars, rosacea, redness, red or purple stretch marks and some scars. The result is smoother skin that is more even in color and texture, and has fewer wrinkles.
Where Is the IPL Procedure Performed?
IPL treatment, also referred to as a photo-facial or photo-rejuvenation treatment, is typically performed in the Corbett Cosmetic Surgery office, as an outpatient procedure. IPL treatment can be performed on the face and on certain areas of the body, such as the back of the hands.
How Long Does IPL Treatment Take?
Depending on the size of the treatment area, IPL treatment can take as few as 30 minutes or up to about 90 minutes. Multiple treatments, each spaced about one month apart, are usually needed for optimum results.
Type of Anesthesia Used
IPL treatment is gentler than laser treatment and should not require a topical anesthetic. However, if the patient does require a topical anesthetic, it may add about 15 minutes to the total treatment time, as that is how long it takes for the numbing agent to take effect before starting treatment.
Recovering From IPL Treatment
There is no downtime required with IPL treatment. You can return to your normal activities directly after treatment. Following treatment, IPL patients may experience mild side effects including swelling, redness or a superficial blister at the treatment site. However, these side effects are rare and temporary.
IPL Results
Individuals who have undergone IPL treatment in Louisville at Corbett Cosmetic Surgery should see some results immediately. The aesthetic results continue to improve as the body produces more collagen, a protein that is essential for healthy skin.

Fees for IPL
IPL treatment costs vary depending on which area of the body is being treated. Check with our office to see if there are any current specials on IPL treatment.
Dr. Lee Corbett is a board-certified plastic surgeon treating individuals seeking surgical breast enhancement, body contouring and facial rejuvenation procedures. He is also highly sought after for his expertise in nonsurgical cosmetic treatments, including BOTOX injectable treatment and laser treatments such as hair removal and skin resurfacing. To learn about the procedures available, or to schedule a consultation, contact Dr. Corbett today at 502-721-0330.